The new Blabu will be a platform for teachers, coaches, mentors, trainers, and therapists.
In addition to its existing video chat function, the new Blabu will include a reservation system, a tool for ongoing communication with clients, and the ability to accept payments online.
Thanks to Blabu, setting up a professional office will be a matter of only a few mouse clicks.
Professional service providers who want to consult, teach or communicate with their clients online need a range of tools beyond a simple video connection: a reservation system, a payment option, and a tool to facilitate ongoing communication – during and after a lesson. Daunted by the magnitude of the task to set up a professional presence online, many professionals give up. And that's a shame, as online services are in high demand – thanks in part to COVID-19. 
Blabu, a platform led by Petr Kováčik and initially developed to serve as an online language school, has recently come up with a great solution. After facilitating more than 15,000 English language conversations with native English speakers, starting from mid-October Blabu will offer online solutions for service providers across a number of professions.   
"Over the past year we've developed a very sophisticated product, and after 15,000 conversations on the Blabu platform we are confident with what we have to offer," says Petr Kováčik about the development process. "And that's why we have decided to enhance the platform with additional functions in order to offer professionals a one-stop-shop for managing their services online," adds Kováčik.  
The "new" Blabu will mainly target language teachers, but its functionality will be suitable for anyone who provides teaching, training, and consultation services by the hour – teachers, mentors, trainers, coaches, consultants and nutritional therapists to name a few. "With just a few clicks, professional service providers can set-up a fully functioning virtual office, with a presentation of their services, a planning tool, a virtual room for teaching, coaching or consultation sessions, and an online payment facility. With Blabu, professional service providers will gain an easy option for accepting payments with credit or debit cards," explains Kováčik. 
In their new venture, Blabu founders Petr Kováčik and Tomáš Strejček will be supported by Miton with an investment amounting to nearly 10 million Czech crowns. 
"When you want to sell something online, you don't develop your own online shop, but hire a ready-made solution. Professionals who make a living by sharing their knowledge and experience should be able to do the same when they move into the online space, regardless of their own technical know-how. COVID-19 has highlighted this need and made it even more pressing," explains Miton's partner Michal Jirák the reasons for Miton's investment in Blabu.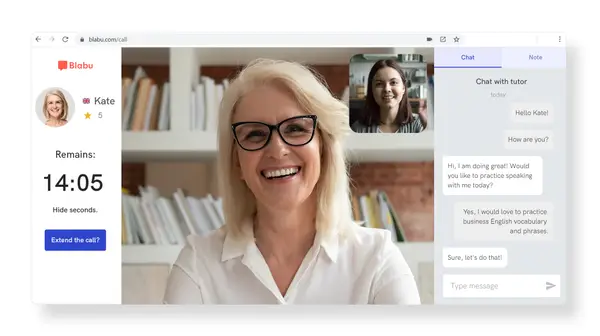 More about Blabu
Blabu started in January 2019 as an online language school focused on facilitating English language conversations with native speakers around the world.
In its first year of operation, Blabu gained 1,000 paying customers and 13,000 registered users and facilitated over 15,000 conversations with 150 native speakers.
The New Blabu is a Saas Business in a Box (BiaB) solution. The customer is not the person seeking a service, but the professional who wants to provide their services online.
The cost of the service will start with a monthly subscription fee of US$25. In addition, online payments will incur a small transaction fee.
The first 500 registered users will be able to use Blabu free of charge for the first six months.
The service aims for 2,000 paying professionals within the first year of its launch.