Why now?
About 99% of what gets said about cryptocurrencies is speculation. We'd rather that these conversations focussed on the potential of web3/crypto to make a positive difference in the world.
Why crypto?
Our world is facing many problems. The principles on which web3 has been founded offer hope for solving at least some of these. At Miton we see crypto/web3 as the new internet - an internet of value and global cooperation.
What is web3?
Web1 (circa 1990-2005) was characterised by open, decentralised protocols. Most of the value created under web1 was distributed to users and system creators. However, users were primarily passive consumers of content with no opportunity to take part in its creation.
Web2 (circa 2005 and beyond) made it possible for users to not only use but also to create content. But most of the value created this way goes to platforms rather than creators. Web2 is characterised by dominance of several platforms that own and monetise users' personal data, platforms such as Wikipedia, YouTube and Facebook. On web2, backend and data are centralised.
Web3, which is currently emerging, makes it possible for users to create content and to simultaneously gain most of the created value. Backend and data are on a blockchain, in other words decentralised. Users are both creators and co-owners (of data, rights and digital assets). Tokens make it possible to align motivation with people's economic interests. What's more, web3 is founded on open source principles, which means that anyone can take an existing solution and build on it. There's no need to reinvent the wheel!
Interesting source on web3
What projects are we looking for?
At present the world of crypto is focussed on key infrastructure ­– blockchains, L2, scaling, security, developer's tools, etc. This is where the current focus lies. It's similar to how it was in the year 2000, when the most valuable company in the world was Cisco, the manufacturer of HW/SW infrastructure elements for the Internet. Today it's FAANG (or rather MANGA) – no one cares about Cisco anymore. We're also seeing the first projects that are going beyond the framework of basic infrastructure: DeFi projects, the first DAOs, or projects focussed on art collecting or digital identity.
At Miton we believe that the biggest value will derive from projects and teams that will bring web3 closer to its users – gateway projects that will address specific needs, have excellent UX, and be able to attract people's attention. These are the kinds of projects we're looking for, and it's their teams we want to support – financially, with our experience, our involvement and our people. After all, projects focussed on end users have always been one of Miton's key focus areas.
We're also ready to build our own web3 projects, as was the case of ChainKeepers (more on that below). We're looking for talented teams for these types of projects. What we can offer is our knowledge of web3/crypto, our experience and our finances.
How will we invest?
We prefer to focus on fewer projects so that we are able to give them our full attention, projects that are meaningful through their focus on making a positive difference in the world. We want to work with teams that share our values and our view of the world. We don't have a fixed time horizon by which we have to turn a certain level of profit or close the fund. This principle follows Miton's general approach to investment.
How much have we set aside?
We've already invested tens of millions of Euro and we've set aside additional tens of millions for future projects.
What projects currently fall under Miton C?
This is one of the most interesting projects in DeFi and on Solana and also a good example of why giving Miton C the label of a 'fund' is not quite adequate. We didn't invest in Marinade through an equity exchange or tokens; we're helping in other ways. We were the first big user of the service and as shown in the dreadfully lit photo from Solana Breakpoint, two Miton C team members have been closely linked to Marinade's development.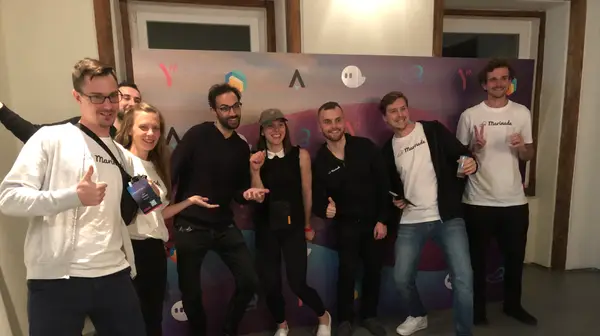 Currently Marinade is one of the largest projects on Solana and one of the 50 largest in DeFi (as per TVL=total value locked, source here). The service offers liquid staking (Solana is a blockchain with a 'proof of stake' mechanism) by allowing users to connect their SOLs to a secure network. Marinade then issues a tokenized share ('m-SOL') with which users can operate further in DeFi.
Marinade is building a decentralized organization (DAO) and has reserved 70% of its tokens as shares to be divided among users, collaborators and projects that will help Marinade move further. One of the members of Marinade's leadership team is the Czech entrepreneur Michael Repetný.
Towards the end of last year Miton C began to think seriously about a project focussed on liquidations and price improvements in DeFi, and by the summer ChainKeepers was born. A Miton C spin-off, ChainKeepers is led by its co-founder Ondřej Vostal, originally a member of Miton C.
ChainKeepers is developing autonomous bots that are improving and stabilising prices across the entire DeFi ecosystem. The current seven-member team comprises top-level programmers, data scientists, mathematicians and network specialists. In seven months of hard work and learning the team has created software that has managed over the past 30 days to gain 4.5% of the most competitive liquidation market, on which you could earn 1717 ETH in the past six months.
"DeFi is full of speculation, high volatility and ineffective pricing, so there's a lot of room for improvement," says ChainKeepers leader Ondřej Vostal.
ChainKeepers is one of the few projects in the Czech Republic and Slovakia that are focussing on price improvement and stabilisation of the DeFi ecosystem in a systematic and globally competitive way. "There are many technical experts and programmers in crypto projects, but they often lack fintech expertise. That's where we see an opportunity. Our ambition is for ChainKeepers to control 5% of the volume in DeFi within five years. In absolute terms this could mean up to one billion Dollars per day," adds Ondřej.
Index Coop is a global decentralized organization (DAO) that issues and openly manages tokenized cryptocurrency indexes that are similar to stock market indexes. Currently Index Coup manages investments totalling roughly half a billion Dollars.
We have been building positions within individual indexes since virtually the start of Index Coop. Through these indexes – which can be exchanged at any time into their underlying assets – we are taking part in managing and shaping the direction of a spectrum of projects in decentralized finance (the principle of meta-governance).
Index Coop is gradually creating additional indexes, such as ones focussed on web3 or the metaverse. By being involved in their creation, we are able to engage with leaders in the specific project areas.  
For additional projects look to the Miton C website.
Want to know more?
Write to us at 👩‍🚀 David, 🧙 Jirka, 🎪 Míša, 🥋 Nikos, 🤹‍♂️ Ondra
Miton C team in the opening photo: from left Nikos Balamotis, David Bala, Ondřej Raška and Jiří Zlatohlávek.
Photo: Filip Kartous