"We're developing a platform that will make the rental of RVs significantly easier: you'll be able to book online, through a simple process, and with a range of add-on services. We'll be capitalizing on our existing experience with building digital services and companies," says the founder of the initiative Lukáš Janoušek.
The company has secured 14 million Czech crowns for the development of the Campiri platform. Besides Janoušek, other investors include the Florida-based Czech entrepreneur Paul Tesar, angel investor Petr Jahn, and the investment group Miton. The current look of the Campiri.cz website was developed by the company's previous owner, who sold it a few months after its launch to Janoušek and Tesar. A revamp of the website platform is expected in March 2021. Campiri expects revenues of 50 million Czech crowns already in 2021, and for 2022 there are plans to expand abroad. 
"I fell in love with caravanning two years ago, when I hired my first RV. I loved the freedom of being my own master on my travels. In time I found that other people in my circle enjoy caravanning or are interested in giving it a try. But most of them don't want to go as far as buying their own RV or camper. In truth, owning an RV is neither simple nor cheap," explains Janoušek his initial motivation for getting involved in Campiri. In the past, Janoušek built and sold the mobile virtual network operator Gorila, and until recently he was the Marketing Director of the Czech fintech Twisto, where he holds an ownership stake. 
Everyone will benefit: rental companies and private owners
Research conducted by Campiri shows that the Czech Republic has some 200 rental companies and – according to estimates of the Czech Association of Camping and Caravanning – over 60,000 registered RVs, caravans, and camper trailers. Campiri estimates that of the 60,000 registered vehicles and trailers, around 1,000 are owned by rental companies. Campiri wants to capture both ownership segments: rental companies as well as private RV owners whose vehicles are garaged or parked next to their house for much of the year. 
"We're convinced – and similar services in Western countries have confirmed this – that if RV rental is given a modern twist, demand will grow quickly. And because we are a nation of travelers, I'm expecting really big interest. Already rental companies are unable to meet existing demand, and that's another reason why we see great potential for renting out privately owned vehicles. For owners this will mean lowering the costs associated with owning an RV, and potentially earning extra money," adds Janoušek.
Campiri expects that rental companies will come on board thanks to the expected growth in demand, even during the off-season, leading to more optimal use of their vehicles. Additionally, the Campiri platform will introduce new customers to this vehicle rental segment. All of these benefits will generate greater profits for rental companies. 
Janoušek's company is also banking on private RV owners. "We're developing a system in which private owners will entrust their vehicles to us in exchange for a complete service that includes maintenance, cleaning, and most importantly, insured vehicle rental. Owners will receive payments for the rental of their vehicles, which will be much more sensible for them than if the vehicles stood unused on the street," explains Janoušek, who himself rents out his RV. "In simple terms, we want to utilize the potential of all the vehicles currently out there. It's the most economical and also most environmentally sustainable approach," adds Janoušek.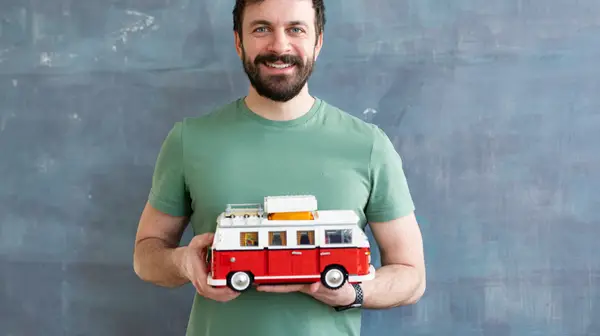 Sustainability as the core driver, accelerated by COVID
Campiri is concerned with principles of sustainability, which have been shown to be essential for preserving our planet the way we know it. "Travelling in an RV used to be the domain of free spirits or older couples. Today many different types are embracing caravanning, choosing this way of holidaying, or even living because they value the complete freedom and independence it offers. This holds true even for people who want to continue working full-time, and are able to work remotely. RVs and campers are symbols of newfound freedom, undoubtedly aided by the fallout from the current pandemic. Just ask rental companies, which are already nearly booked out for this year's spring and summer season," points out Janoušek.
Travel is however closely linked to emissions, rubbish, and over-tourism. For these reasons, Campiri will actively support and promote ecological fuels, educate customers about how to act responsibly toward the environment, and support local entrepreneurs and communities. One percent of the company's earnings will be invested in projects supporting infrastructure development or environmental sustainability. "By borrowing an RV through Campiri, each customer will make a small contribution toward building a better world," adds Janoušek.
Digital solution and a 7-year head start
Over the coming months, Campiri will launch a number of new tools and services: online access to available vehicles, dynamic pricing, and add-on services like bicycle rental or additional insurance. The new version of the system, which will be similar to what we know from platforms like Booking.com or Airbnb, will be introduced in March. The company's anticipated success stems from the team's prior experience in marketing, fintech, and reservation system development.
"Paul Tesar, our investor, has over the past seven years focussed on building similar systems for renting boats and yachts. He has already sold one of his reservation companies, and he has a team of experts based in his software development agency Prague Labs, which is doing development work for us as well," says Janoušek. In addition to Paul Tesar, Janoušek was successful in getting on board the investor Petr Jahn, who founded Adexpres, which was later sold to Dentsu. Jahn invested in Campiri in mid-January together with the investment group Miton. 
"Independent travel is a topic close to our hearts, both personally as well as professionally. We are keen caravanning enthusiasts ourselves, and we can see how this type of travel is growing. Rising interest in environmental sustainability and pandemic-driven social distancing has only accelerated this trend further. As a result, I'm confident this won't be our only investment in this area. And I'm already looking forward to the time when I can use Campiri to hire out my Hero Campers," says Miton's CEO David Špinar about the investment. 
Campiri's original foundation was laid in the summer of 2020 by the entrepreneur Michal Tyl; the company was bought by Lukáš Janoušek and Paul Tesar later the same year. The other two investors came on board in January 2021.