In the photo from left Ondřej Štěpánek and Milan Zemánek (both Miton), Lukáš Urban (Septim CEO) and Zbyněk Švec (Septim founder).
To date Miton has invested in three restaurant industry projects: Grason helps restaurant managers hire quality staff through a flexible staffing system, Uget focuses on efficient supply management, and Qerko allows customers to pay for their meals at the table with the simple use of a QR code. 
And now to the three startups we have added – somewhat atypically for Miton – a company that has been on the Czech market since 1994. With more than a thousand clients and annual transactions totalling over 1 billion Euro, Septim is one of the largest cash register systems in Czechia. And so it's not surprising that it is used by large restaurant chains like Ambiente, Kolkovna, Potrefená husa and Together.
"One of our long-term interests is to digitize the entire restaurant industry to make it more efficient, both in the B2C and B2B segments. Septim fits this interest perfectly. Few businesses know the reality of Czech restaurants better than Septim, as it's the cash register system that serves as the digital heart of every restaurant," explains Miton's partner Milan Zemánek.
"We've known Miton, specifically Milan Zemánek, for quite a few years. It started with informal chats about the restaurant business, continued with our participation on joint projects, and now we've received a clear signal from within the sector to bring our partnership to a whole new level," says Septim's founder and former CEO Zbyněk Švec. Švec has recently handed the CEO post to Lukáš Urban, his long-term right hand. "We're embarking on a new direction by linking our know-how with Miton's experience in working with ambitious startups. We're going to strengthen our team and we want to raise the Septim user experience to a whole new level," adds Lukáš Urban.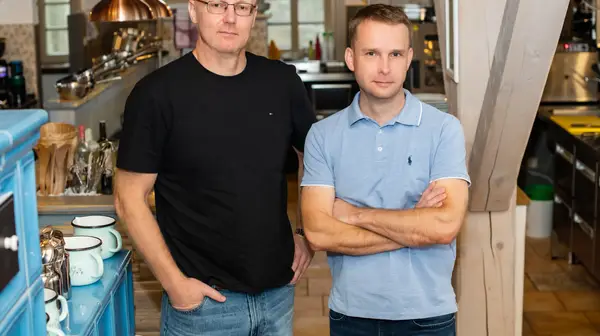 The fact that our 'restaurant portfolio' now includes a key cash register system is a logical continuation of our efforts to create an ecosystem that will help smart restaurants grow. While the restaurant business is a traditional sector that needs to maintain its independence, COVID-related shocks have shown us clearly that without a speedy modernisation, the entire sector will face existential questions. 
"We want Czech restaurants to thrive and that's why we're working on joining forces with others. Examples include Qerko's collaboration with Plzeňský Prazdroj, our discussions with meal ticket companies, and other technology projects. We invite into our discussions and collaborations anyone who can help improve the state of the Czech restaurant industry, including cash register systems," concludes Milan Zemánek.